(All events at the Coronation Hall unless stated.)
Please scroll down for posters and notices to find all events.
Register your email with Alton Arts for email notification of village events.
Monthly Village Coffee Mornings.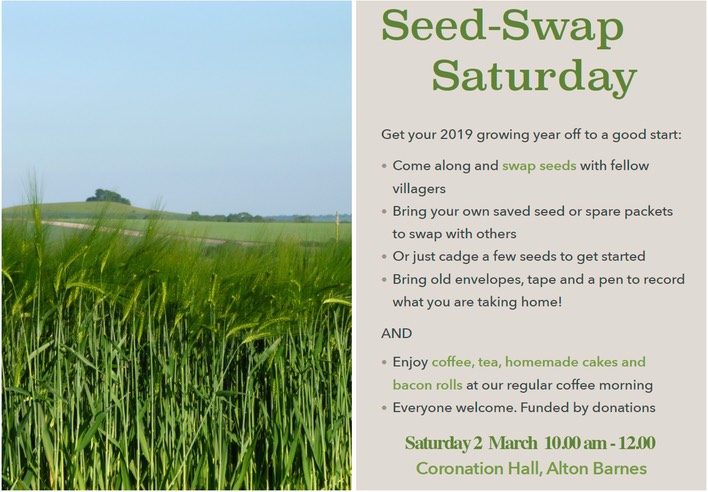 Seed-Swap 
Saturday 2 March.
Special for this day only Wiltshire Bacon Butty cooked to order!  The coffee mornings are usually on the first Saturday morning of every month, in the Coronation Hall, starting at about 10.00 am to midday. 
Saturday 9th March @ 7.30 pm.
Call my Bluff Wine Tasting
Tickets £10.00 to include all wine and a bread & cheese supper.  Please click here to book in advance. Contact Robert on telephone:- 852265

Call My Wine Bluff is a hugely entertaining show pitting the wits, wine knowledge and intuition of the audience against the lying, devious and cheating expertise of the panel.
With none of the pomp and ceremony usually associated with wine tasting Call My Bluff Wine Tasting is an opportunity to taste (and drink!) 6 wines in a competitive atmosphere. Its the games when you "Think while you drink"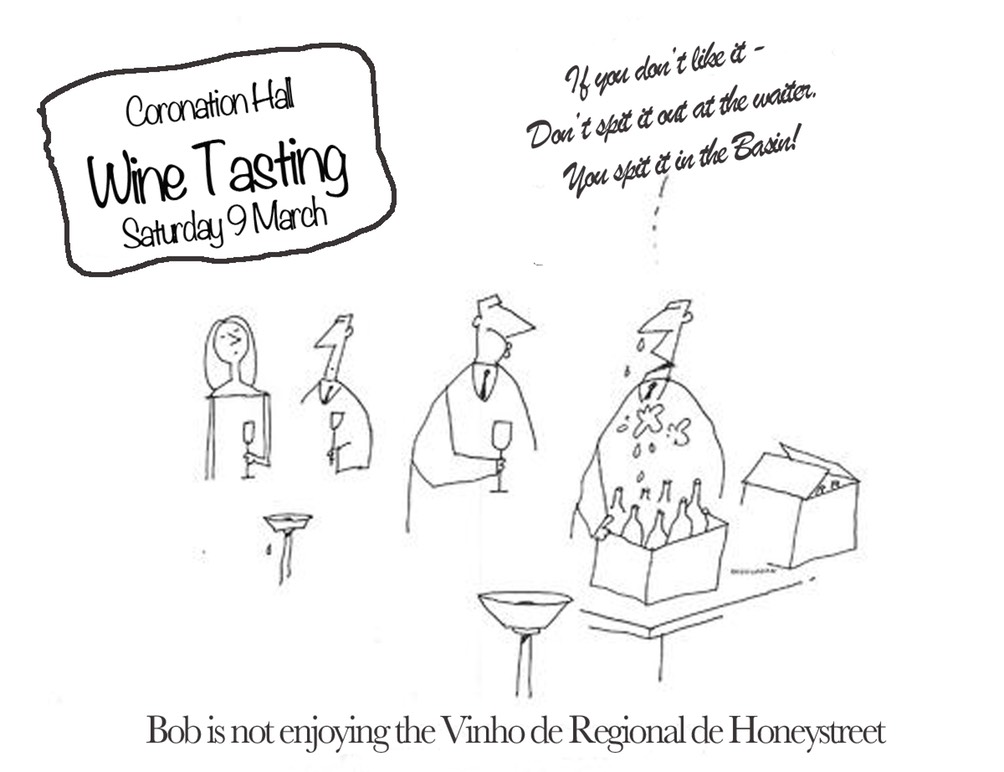 Call My Bluff Wine Tasting is a game of 6 rounds when our audience of up to 60 people divided into tables of 8 or 10. Each member of the audience is served a glass of wine from a covered label bottle of wine -  so there is no opportunity to see what is being served.. The panel of 3 each gives an amusing, informative and highly convincing description of the wine being drunk. Two of the panel are unashamedly lying through their teeth whilst the other is telling the truth. The table teams have to decide which of the panel is innocent of such deception. 5 points are awarded for guessing the correct wine and bonus points can be picked up for guessing the retail price.
Three white wines will be served followed by a short supper interval of a bread and cheese supper, which will be followed by the tasting of three red wines to enjoy with the rest of the cheese.  
As the rounds progress the audience, by this time enjoying the effect of the wine, are no longer basing their decisions on cold logic or sound knowledge. Instead they are beginning to realise how difficult it can be to identify the right wine.
Our wine experts for the evening are:-
Baron Charles Plonkeur, Mâitre du Vin Premier Cru. 
Baron Plonquer, a member of one of the most ancient families in France, has drunk wine continuously since his childhood and boy, does it show. His nose is legendary. His legs are pretty good too. Known to his friends and neighbours as "La Peste" Le Baron has been thrown out of more vineyards than you and I have had hot dinners. It is an honour to have him with us for our Wine Bluff Night. 
Baron Steer. 
Seigneur de Tisboire et maître des grandes fromages est un marchand des délicaces loin d'être commun. Un epicure qui préserve ses jambons dans sa propre fumée, sa connaissance et recherche du fond d'une bouteille est profonde est sans un verbe d'une lie.
Alexander Sniffglass.
Writer and columnist for 'The dusty bottle', He is infamous for his extraordinary, unlikely and occasionally excruciating wine and food pairing recommendations.  Recently in the press promoting his 'Brexit wine protection plan' where the planting of vines on all land in Britain with a South facing slope would be compulsory, and the rapid national purchase and relocation of the European 'wine lake' to a soon to be created 'wine reservoir' in a secret location in a soon to be dammed valley in North Wiltshire. 
Tickets £10.00 to include all wine and a bread & cheese supper. 
Please click here to book in advance. 
Contact Robert on telephone:- 852265
Friday 15th  March (note at Kennet Valley Hall) 
One Thousand Years of Wolfhall

Thursday  21 March  Film Night Tickets £5.00 on the door. Licensed Bar.

A Star is Born
In this new take on the iconic love story, four-time Oscar nominee Bradley Cooper makes his directorial debut, and also stars alongside award-winning, Oscar-nominated music superstar Lady Gaga in her first leading role in a major motion picture.  Cooper portrays seasoned musician Jackson Maine, who discovers and falls in love with struggling artist Ally.  She has given up on her dream to become a successful singer, until she meets Jack, who immediately sees her natural talent.  Theirs is a complex journey through the beauty and the heartbreak of a relationship struggling to survive.  From the official website
"This latest and fourth version is a gorgeous heartbreaker (bring tissues). Like its finest antecedents, it wrings tears from its romance and thrills from a steadfast belief in old-fashioned, big-feeling cinema. That it's also a perverse fantasy about men, women, love and sacrifice makes it all the better."  New York Times
"In his impressive directing debut, Bradley Cooper and the luminous Lady Gaga soar as they catapult the film high into a sphere of contrasts, where life's extremes are on show. Electric, compelling and tender, the film is a knockout creatively and emotionally, offering a raw glimpse into today's world of celebrity."  Urban Cinefile
"An assured rehash it may be, but it's one that's surprisingly slick, emotionally affecting and packing a final unexpectedly meaningful punch."  Radio Times
Watch Trailer:- https://www.imdb.com/title/tt1517451/?ref_=nv_sr_1
FRIDAY NIGHT is BINGO night on 29 March starts at 7.00 pm.

Music for Awhile 24th Summer Festival 6th and 7th July
All Saint's Church, Alton Priors
July 6th 7.00 full details to follow 
July 7th 4.00  'Bach in the afternoon'  including the wonderful wedding cantata O Holder Tag sung by Julia Doyle  http://juliadoylesoprano.com  with the Music for Awhile ensemble directed by Festival Director:-  Maggie Faultless
Tickets from John MacAuslan at email:- j.macauslan@btinternet.com